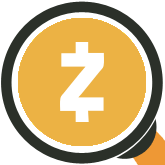 Zcash is a cryptocurrency that uses encryption to give its users greater anonymity than other cryptocurrencies such as Bitcoin. Interestingly enough though, ZCash is built on the Bitcoin source where many parallels exist, such as a set total supply of 21 million units.
If you're wondering whether or not to invest, you will first need to understand how ZCash operates, where you can purchase it from, and what the future holds for this particular cryptocurrency.
How Does ZCash Work?
Zcash is a project led by Zooko Wilcox that aims to address one of Bitcoin's most pressing issues: traceability. Blockchain functions similarly to an open ledger. For example, every transaction that a user has made may be monitored in it. While this accomplishes the goal of preventing corruption and criminal behaviors, it severely threatens one's privacy.
ZCash protects user privacy by validating transactions using zero-knowledge proofs rather than providing information that may endanger a user's privacy.
How Does ZCash Protect Users Information?
You can pick between two types of transactions with ZCash. You have the option of doing a conventional transparent transaction or a shielded private transaction.
Zero-Knowledge proofs were created due to the work of MIT researchers who were working on problems related to interactive proof systems. In such transactions, a Prover exchanges messages with a Verifier to convince them that they know a certain proof without declaring what that knowledge is. If the server is compromised or attacked, your information will be exposed to the other party, with potentially disastrous effects.
To counteract these problems, zero-knowledge proofs are critically necessary and game-changers. But, to make their system even more secure for users, ZCash has also incorporated Zk-Snarks.
Zk-Snarks is short for "Zero-Knowledge Succinct Non-Interactive Knowledge Argument," and refers to a wide range of applications in the current blockchain technology.
A smart contract is essentially a financial escrow that is activated after a specific purpose is completed. It is quite beneficial for safeguarding your own assets and those of your company's.It can only expose a portion of the procedure, without revealing the entire process, proving that you are truthful in your assertions.
How Do You Buy Zcash?
Gemini
Gemini is a well-known cryptocurrency exchange. It allows you to purchase Zcash (ZEC) through its brokerage service and its trading platform.
Payment methods include credit cards, making it one of the simplest purchasing processes accessible, albeit it is somewhat more expensive than using a wire transfer.
Binance
Binance is the largest crypto-to-crypto exchange and a market leader in the sector. If you want to buy ZCash but already have another cryptocurrency, you may utilize Binance to trade them.
Coinbase
Coinbase is a cryptocurrency exchange established in the United States that also offers a wallet, custodial services, and other products.
You may purchase ZCash using Coinbase's brokerage service, which is easy but more costly, or the Coinbase Pro trading platform (for advanced users). Coinbase allows customers from 103 different countries, and its payment options include debit cards and domestic transfers like ACH and SEPA.
eToro
eToro is most likely the simplest option to purchase ZCash for investment purposes exclusively. eToro enables you to invest in ZCash in a straightforward and low-fee method.
You cannot access your coins; you can only trade them for cash currency. This strategy is arguably best suited for speculators hoping to profit from their investment in the coin.
Where Do You Store Your ZCash?
Before purchasing Zcash, you must first purchase a ZCash wallet to store your money. Wallets are classified into two types: hardware wallets and software wallets.
Software Wallets
Although software wallets are free to download, they are regarded as less secure than hardware wallets. This is because software wallets store your private key on your device, which is always connected to the Internet and thus more vulnerable to hacking.
Jaxx
Jaxx Liberty is another name for Jaxx. Jaxx is a mobile bitcoin wallet that may be connected with a desktop version. The wallet supports ZCash and several other cryptocurrencies.
Coinomi
A mobile cryptocurrency wallet for iOS and Android that allows you to store ZCash.
ZEC-QT
This wallet, which is available for both Mac and Windows, is a full node, which means you'll need to download the whole Zcash blockchain to your computer.
You may use the wallet right immediately after installing it, but you won't be able to view transactions until you let it sync for a night or two, depending on your internet connection.
Exodus
A straightforward desktop wallet that allows you to store Zcash as well as several other cryptocurrencies. This wallet is ideal for novice users since it is relatively easy to set up.
Hardware Wallets
Because the private key to your money is stored offline on the device, hardware wallets are probably the safest option to keep your Zcash.
TREZOR
TREZOR's major versions, the TREZOR One, and TREZOR Model T allow you to conveniently and securely store, transmit and receive Zcash.
The key distinction between the versions is that the Model T incorporates a touch screen for improved convenience and privacy.
Ledger
With a Ledger hardware wallet, you can store, transmit, and receive Zcash via the Ledger Live app. The software is accessible via both a desktop computer and a mobile device.
Currently, two ledger versions are available: the Nano S and the Nano X. The latter provides Bluetooth capabilities for use with your mobile phone.
How To Access Your ZCash?
After you've purchased your coins, you may withdraw them to your wallet. However, if you leave your coins on the exchange, you risk losing them if the exchange is hacked or goes bankrupt.
Make certain that the coins are sent to your wallet. Then, by simply putting your address into the search box of any block explorer that tracks the ZCash Blockchain, such as Zchain, you can track your transparent address.
So whether you have invested in ZCash and find it a little confusing or are thinking about investing in ZCash and wanted to learn more about it, know what the economy's future is cashless.