-
HotMoneyRoi
(
//www.hyipexplorer.com/member/forumdisplay.php?f=11615
)
| | |
| --- | --- |
| HYIPexplorer | 07-03-2019 12:28 AM |
---
Discussion about HotMoneyRoi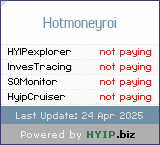 Discussion about HotMoneyRoi post here.
[HotMoneyRoi Program Details]
Information Technology is constantly develop and updated. In this area at the moment is very favorable market for investments and providing credits. Our company is HOT MONEY ROI. We are legal registration in UK - certificate of incorporation #11886058. We are is engaged in lending and investing into variety of different IT projects. Making investments in IT projects is an attractive proposition for virtually any individual or incorporation. There is no doubt that Information Technology is going to be the leading investment sector in the twenty first century, therefore it is important to know m
All times are GMT -7. The time now is

05:28 AM

.
Powered by vBulletin® Version 3.8.4
Copyright ©2000 - 2019, Jelsoft Enterprises Ltd.