-
Bitcoins4ever
(
//www.hyipexplorer.com/member/forumdisplay.php?f=11600
)
| | |
| --- | --- |
| HYIPexplorer | 06-19-2019 02:11 AM |
---
Discussion about Bitcoins4ever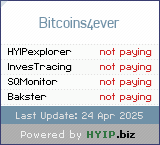 Discussion about Bitcoins4ever post here.
[Bitcoins4ever Program Details]
In any investment you make, you earn a percentage of the investments the next day and every day for life.The calculation is as follows:(Your investment / All user investments) * Day investmentsExample: invert 0.01 BTC0.01 BTC / 0.20 BTC (total investment of users) * 0.10 BTC (today's investments) = You receive 0.005 BTC on the second day of your investment.And you will receive daily earnings for life with the same formula.
All times are GMT -7. The time now is

11:52 AM

.
Powered by vBulletin® Version 3.8.4
Copyright ©2000 - 2019, Jelsoft Enterprises Ltd.